Citrus Field Day for Growers & Industry Members
March 2, 2022
UC Riverside and SoCal CAPCA's Citrus Field Day
Event date: 3/10/2022 7:00 AM - 12:30 PM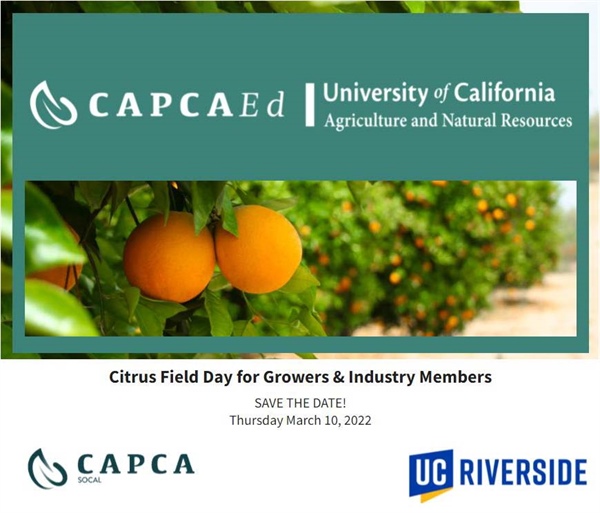 This seminar will take place at U.C. Riverside's Agricultural Operations building, at 1060 Martin Luther King Blvd, in Riverside, on Thursday, March 10, 2022. 
Registration begins at 7:15 am
Seminar begins at 7:45 am
Seminar ends at 12:40 pm, with lunch to follow.
Registration Fee: $25, includes lunch
Seminar topics include an update of HLB Quarantine and Pesticide Regulations by Riverside County Agricultural Commissioner Ruben Arroyo, Controlling Asian Citrus Psyllids Using Beneficial Insects by Nic Anne Irvin, of UCR, and a demonstration of drone technology.
Follow the link for directions on how to register and for more information: https://capca.com/events/uc-riverside-citrus-field-day/
Contact Krystal Jenkins for more details.